Dental Flipper for Missing Teeth
Dental Flipper for Missing Teeth
Amid COVID-19 outbreak, we are associated online with dentists & dental labs.
3-way free shipping | One-time free adjustment or a free remake | 25% discount on total cart value.
Dental Flipper :
A teeth impression kit is included in the price and your teeth impressions are what you will send to us to have your device made.

Different shades or colors are available.

We make this same exact Flipper for dental offices that we offer directly to the public.

The way we are able to charge you less is because you are taking your own teeth impressions.

Must currently have at least 10 existing teeth on your upper arch and at least 10 existing teeth on your lower arch.

You can not eat with flipper in your mouth.

If you use the upper and lower impression kits and you do not have the 10 teeth, then you will be issued a refund minus the $58 for the non-refundable impression kits.
Description:
Our Custom Fit Flipper Teeth is a hard acrylic plate that we attach teeth to in order to fill spaces where you are currently missing teeth. Unlike our Partial Denture, you are not able to eat with this device in your mouth. 
Wear:
A Flipper Teeth Plate can be worn 24 hours a day but you must take it out while you are eating. To insert or remove this teeth device, use both hands and push on or pull off evenly with your thumb and index finger. It may take several days for your tongue to get used to device and then your speech will return to normal.
Care:
To clean the Flipper Teeth Plate simply brush it with toothpaste and water after each use. You can use effervescent tablets as needed for deep cleaning.
Shipping Details:
3-way Shipping Process:-
1) Teeth Impressions Kit shipment to you
2) Teeth Impressions Kit back to us (it will take the lab 10-12 business days to manufacture your teeth device(s))
3) Teeth Device(s) shipment back to you
Shipping Method:-
1) Free Shipping USPS First Class Mail
2) $14 USPS Priority Shipping- Fastest Shipping / Tracking & Updates provided
Customer Reviews
Evelyn B.
United States
06/25/2020
WOW WOW WOW!!!!!
Totally life changing!!! THANK YOU for offering this service to folks like me that need help finding their smile again. It was convenient in my home, help when I had questions and delivered a quality product that fits perfectly! The good folks at Custom Teeth have angel hands and I can't thank them enough for my new smile!!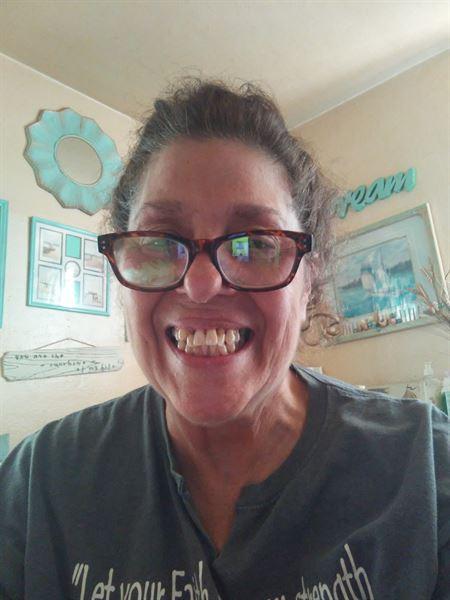 Christine S.
United States
06/24/2020
Thank you for my smile again!
Took a couple days to get used to, but now I don't notice it at all!! Great experience, thank you.
Brad C.
United States
06/13/2020
Gteat!!
Great system, very affordable for the average income hlusehold. Spot on fit,excellent craftsmanship. Highly recommended. Thank you so much!
Shelby R.
United States
06/11/2020
Perfect fit
This is my third dental appliance, with the first two being from the dentist office. This appliance was the best fitted by far. It's made well, looks realistic and seems to be quite durable. The only area of maybe less than optimal is the location of the wire fittings. When I smile, they're visible on each side. The only remedy would be to extend the flipper one tooth on each side. Other than that, absolutely perfect!
jon r.
United States
06/10/2020
Great job everyone involved!
Very pleased smile is much improved. Only critique i have is that the pink part(dental epoxy or whatever material) is a lil too thick. I cant get used to talking with it in..other than that this whole process was stellar!!! And keep in mind my critique is not a bad fit, just me being particular. Thanx again!